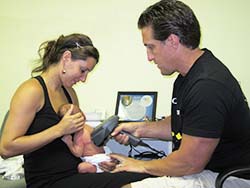 Dr. Leah and Dr. Troy LOVE working together to help families create greater health and wellness. Their humor, love, knowledge and support is felt throughout the office for every practice member that walks through our doors.
Everyone at Vitalize Family Chiropractic is committed to seeing the next generation of children being raised healthier than the past few generations. Did you know that the children in our country have a lower life expectancy than their parents? It is true and terrifying. As parents and doctors, Drs. Leah and Troy are motivated to educate everyone because this trend shows that what we are doing, as a society and as consumers, is not working. In fact, a lot of harm is coming from our current model. According to the World Health Organization and the Commonwealth Fund, the United States is ranked dead last in the overall health of its citizens when compared to similar industrialized countries. In order for us to restore true health, Drs. Leah and Troy recommend a different model.
The model involves educating on how the body works, how to heal it, support it in the future as well as allowing consumers to make the best decision for them and their families. Drs. Leah and Troy pride themselves on teaching parents and children that a better way to child development, health and life exists, right here in their office using the principles chiropractic care. They are dedicated to helping you, your family and community be the healthiest, happiest and most informed families out there. Click here to call for an appointment.